Turtle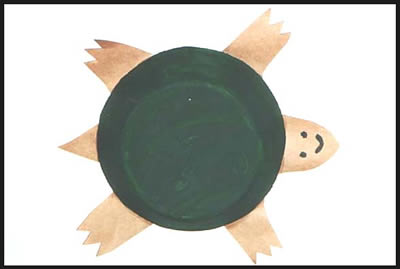 Turtle
Materials Needed:

Brown construction paper


Green tempera paint


Styrofoam bowl


Black marker/crayon


Glue

Template
What to Do:

Using template, trace and cut out turtle body onto brown construction paper.

Cut off and discard top of styrofoam bowl, leaving about a one inch deep bowl to be used as the turtle's shell.


Instruct children to:
- Paint the outside of the bowl with green tempera paint.
- Turn bowl upside down and glue on top of turtle body.
- Use black marker/crayon to draw eyes on turtle's head.
[

Back

] [

Send to a friend

] [

Print Preview

]
Comments
Be the first to leave a comment! (Note: You must be logged in to leave a comment.)