Flowers in Vase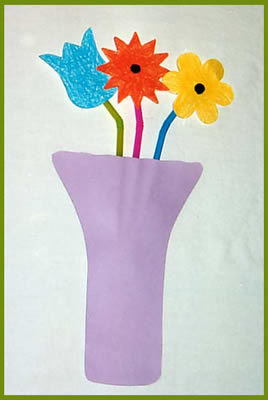 Flowers in Vase
Materials Needed:

Construction paper (any color)


Solid Colored Flexible straws (solid colored)


White construction paper


Tape

Template
What to Do:

Using template, trace and cut out:
- Vase on any color construction paper.
- Flowers on white construction paper.

Instruct children to:
- Use crayons to color flowers.
- Tape the shorter part of the flexible straws on to the back of the flowers.
- Place the three finished flowers "into the vase", by taping the longer part of the straws to the back of the vase.
[

Back

] [

Send to a friend

] [

Print Preview

]
Comments
Be the first to leave a comment! (Note: You must be logged in to leave a comment.)