Fairy Godmother's Magic Wand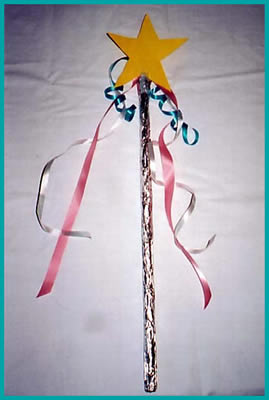 Fairy Godmother's Magic Wand
Materials Needed:

Ribbons/streamers (variety of colors)


Yellow construction paper


Newspaper


Foil


Tape


Glue

Template
What to Do:

Using template, trace/copy and cut out star onto yellow construction paper.


Demonstrate to children how to:
- Roll and tape three sheets of newspaper together (width-wise) to create a tube/wand.
- Wrap newspaper with foil and tape edges.
- Cut strips of ribbon/crepe paper streamers.
- Line up one end of all the ribbons and wrap them with tape to hold them together.
- Push taped end of ribbon/crepe paper streamers into the top of the wand and glue.
- Glue/tape star to top of wand.
* This activity requires a lot of teacher assistance. Therefore if you are working with a large group of children you may want to do this as a group project and only make a couple of wands to be used as props in dramatic play.
[

Back

] [

Send to a friend

] [

Print Preview

]
Comments
Be the first to leave a comment! (Note: You must be logged in to leave a comment.)