Humpty Dumpty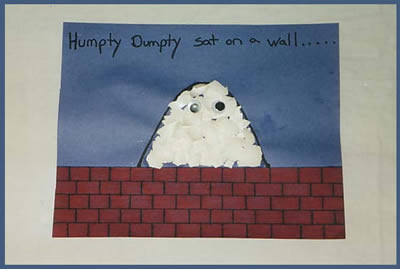 Humpty Dumpty
Materials Needed:

8.5x11 Blue construction paper


White paper (torn into small pieces)


2- 12mm Wiggly eyes


Crayons


Glue

Template
What to Do:

Copy template onto blue paper.


Instruct children to:
- Color in brick wall.
- Spread glue so it completely covers inside of egg shape.
- Before glue dries, place paper pieces on glue.
- Glue eyes near top center of egg shape.
[

Back

] [

Send to a friend

] [

Print Preview

]
Comments
Be the first to leave a comment! (Note: You must be logged in to leave a comment.)