Watering Can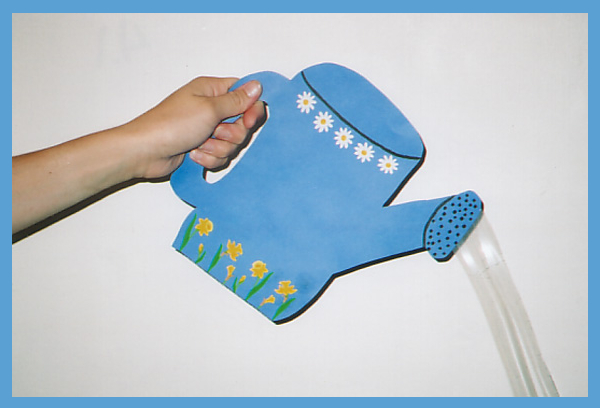 Watering Can
Materials Needed:

Watering can template


Laminating film scraps (Or any clear plastic thin enough to cut)


Embellishments (e.g. stickers, markers, crayons)


Construction paper (any color)


Black marker


Tape

What to Do:

Using template, trace/copy watering can onto construction paper and then cut out.


Instruct children to:
- Use black marker to draw top opening of can and a line to make an oval pour spout. Draw dots on spout to represent holes.
- Decorate watering can using stickers, markers, and crayons, etc..

Cut a 1½" wide x 10" long piece of film scrap or clear plastic.


Start at one end, making cuts (approximately ¼" apart) down the length of the strip stopping at approximately ½" from opposite end to make the effect of pouring water.


Tape the solid end to the end of the spout by slightly overlapping backside of spout.

[

Back

] [

Send to a friend

] [

Print Preview

]
Comments
Be the first to leave a comment! (Note: You must be logged in to leave a comment.)