Rain, Rain, Go Away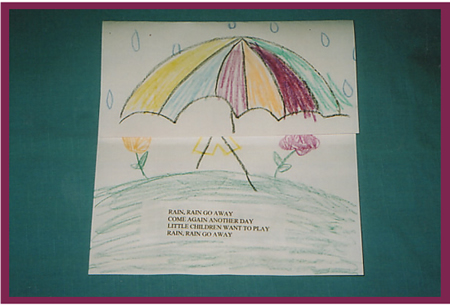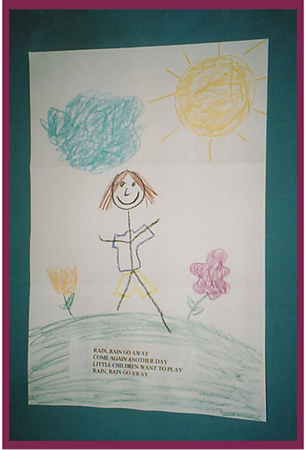 Rain, Rain, Go Away
Materials Needed:

12"x18" White Construction Paper


Crayons


Glue

Sheet of poems

Umbrella template
What to Do:

Cut poems from duplicated sheet of poems.


Crease paper in thirds, creating a 6" x 12" tri-fold sheet.


Draw grass so it covers half of the bottom third of the paper.


Instruct children to:
- Draw a picture of a child, the sun, and some flowers using the top two-thirds of the (inside of the) paper.
- Fold top third down over picture and trace the umbrella template.
- Draw raindrops. (Making sure to draw the raindrops on the folded part only.)
- Glue poem on top of the grass.
- Lift up flap that is folded down to reveal a sunny day.
[

Back

] [

Send to a friend

] [

Print Preview

]
Comments
Be the first to leave a comment! (Note: You must be logged in to leave a comment.)