St. Patrick's Day Hats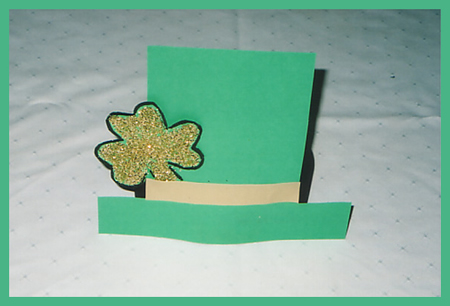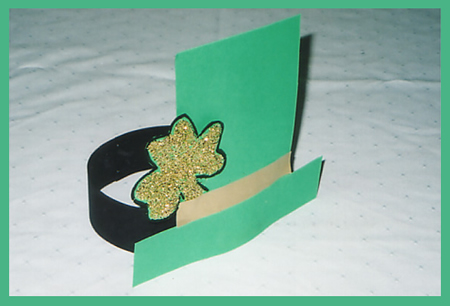 St. Patrick's Day Hats
Materials Needed:

Ribbon (wide)/construction paper


Construction paper (green and black)


Stapler/staples


Black marker


Gold glitter


Glue

Template
What to Do:

Using template, trace the hat and shamrock onto green construction paper and cut out.


Using black marker, outline the shamrock so that it will stand out when glued to the hat.

Instruct child to:

Rub glue on the entire surface of the shamrock and then sprinkle gold glitter on it.


Glue shamrock so that the stem of shamrock is near the brim of the hat.


Glue a ribbon or a paper band above the rim of the hat; overlapping the bottom corner of the shamrock stem.
Should be done by an adult:

Cut a 1½" wide strip of black construction paper that is long enough to fit around the child's head. (You may have to add two pieces together to make it fit.) Sentence strips also work well for this.


Staple ends of band together. (Make sure staple ends are facing outward away from child's head.)


Glue the hat to the front part of paper band.
[

Back

] [

Send to a friend

] [

Print Preview

]
Comments
Be the first to leave a comment! (Note: You must be logged in to leave a comment.)