Paper Sack Leprechaun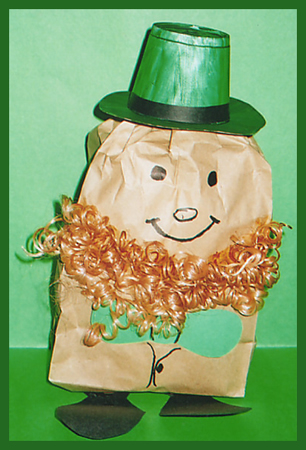 Paper Sack Leprechaun
Materials Needed:

Red curly doll hair (available at craft stores)


Old newspaper/scrap paper


Bread tie/rubber band


Ribbon/paper (your choice of color)


Construction paper (green and black)


Green paint


White tag board


Paper lunch bag


Styrofoam cup


Black marker


Glue

Template
What to Do:

Using template, trace and cut out:
- Hat rim on tag board.
- Bow tie on green construction paper.
- Shoes on black construction paper.

Instruct children to:
- Stuff bag with old newspaper or scrap paper.
- Close top of bag by wrapping bread tie or rubber band around it.
- Draw a face on the front top part of bag using black marker.
- Cut Styrofoam cup in half and paint bottom half of cup green.
- Paint hat rim green.
- Push gathered part of top of bag through hole in hat rim.
- Squirt some glue under rim to hold more securely.
- Put glue around top edge of Styrofoam cup and turn cup upside down and place onto hat rim.
- Glue ¼ inch wide ribbon or paper around hat just above the rim.
- Glue red curly doll hair onto bag under where the mouth was drawn (to make a beard). You may have to cut hair into smaller pieces to make it more manageable.
- Glue bow tie on bag under beard.
- Glue feet to the bottom of the bag so that they stick out in front of the bag.
[

Back

] [

Send to a friend

] [

Print Preview

]
Comments
Be the first to leave a comment! (Note: You must be logged in to leave a comment.)