Ladybugs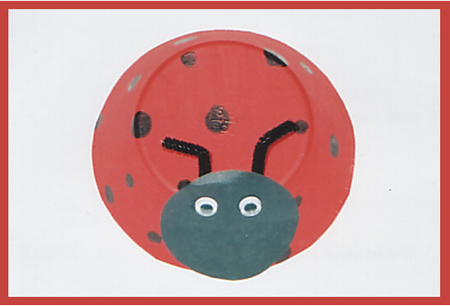 Ladybugs

Materials Needed:


Black construction paper


10mm Wiggly eyes (2 per project)


Black pipe cleaners


Styrofoam bowls


Paint (black and red)

What to Do:


Cut circles out of the black construction paper to use for the ladybug heads.


Cut rim off of the Styrofoam bowls and discard the rim.


Instruct children to:
- Turn remaining bowl upside down, paint it red, and allow it to dry.
- Paint black dots on the red bowl.
- Glue head to side of bowl.
- Glue wiggly eyes onto head.
- Cut pipe cleaner in half. (Adult may want to do this part.)
- Stick pipe cleaners behind head and into Styrofoam bowl about 1" apart from each other to form "antennas".
[

Back

] [

Send to a friend

] [

Print Preview

]
Comments
Be the first to leave a comment! (Note: You must be logged in to leave a comment.)