Freddy The Frog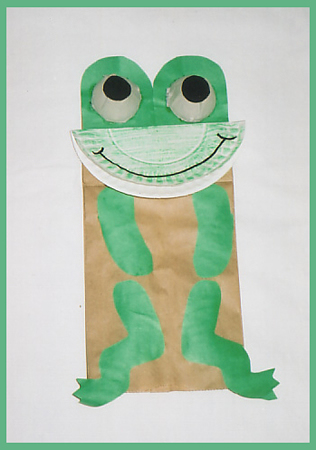 Freddy The Frog
Materials Needed:

Egg cartons (preferably cardboard)


Construction paper (green and black)


Small white paper plates


Black markers


Green crayons


Lunch bags


Glue

Template
What to Do:

Using template, trace/copy and cut out:
- Back part of eyes and both front and back legs onto green construction paper.
- Pupils onto black construction paper.

Instruct children to:
- Fold paper plate in half and color top of folded area with green crayon.
- Use the black marker to draw a smile on top part of folded plate along the rim.

Keeping bag flat and folded bottom flap facing up, instruct children to glue:
- Back part of eyes to the top half of bag flap.
- Folded plate to the bottom half of bag flap with green side up.
- Legs onto bag.
- Egg cups onto back part of eyes.
- Pupils to egg cups.
[

Back

] [

Send to a friend

] [

Print Preview

]
Comments
Be the first to leave a comment! (Note: You must be logged in to leave a comment.)