Sparky the Fire Dog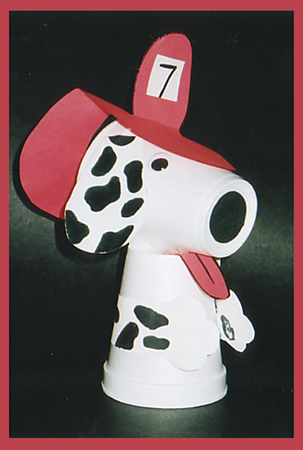 Sparky the Fire Dog
Materials Needed:

Construction paper (red, black, and white)


2 - 12 mm Wiggly eyes


2 - Styrofoam/paper cups


Brass fastener


Black markers


Glue

Template
What to Do:

Using template, trace/copy and cut out:
- Ears and "arms" onto white construction paper.
- Hat and tongue onto red construction paper. (Remember to cut the "u" shape in the middle of the hat. This is for the hat's number.)
- Nose onto black construction paper.

Turn one of the Styrofoam/paper cups upside down. Take the other Styrofoam/paper cup and lay it on its side on top of the other cup. Push a paper fastener through the inside center of the top cup, down through the bottom of the upside down cup. Reach up under the bottom cup to pull apart ends of fastener to secure it.


Instruct children to use black marker to draw:
- Spots on ears and "arms".
- Outline and line on tongue.
- Number on hat.

Instruct children to glue:
- Hat to top cup by gluing front part of hat to top cup and bending down back part of hat behind cup. Fold number part of hat up.
- Ears, nose, and eyes to top cup.
- Tongue between the two cups.
- "Arms" around the bottom cup.
[

Back

] [

Send to a friend

] [

Print Preview

]
Comments
Be the first to leave a comment! (Note: You must be logged in to leave a comment.)