Look at Me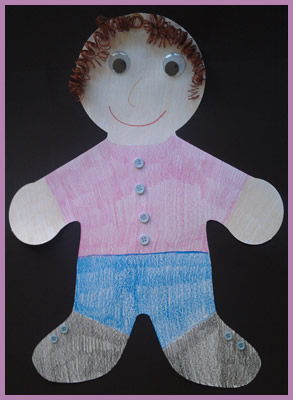 Look At Me
Materials Needed:

Cut out of paper person


Markers/colored pencils/crayons


Doll hair or yarn (several different hair colors)


Embellishments (e.g. buttons, stickers, printout of zippers)


Glue

Shirt template

Clothespins/paper clips
What to Do:


You can find large cut outs of people to decorate at your local school supply stores or you can draw one yourself on large drawing paper/construction paper.


Supply children with paper person cut-outs, doll hair/yarn, embellishments, and glue.


Encourage them to design a replica of themselves.


Copy/trace Cshirt template onto colorful paper and write the phrase "Just Hanging Around With My Friends" on the front of it. Using clothespins or paper clips hang shirt from a string line on the wall along with the children's art work people.
[

Back

] [

Send to a friend

] [

Print Preview

]
Comments
Be the first to leave a comment! (Note: You must be logged in to leave a comment.)