Hungry Caterpillar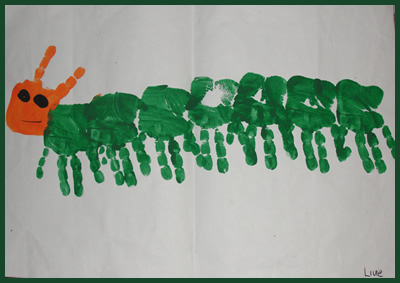 Hungry Caterpillar
Materials Needed:

Large white construction paper

Paint (green, orange, and black)

Brushes
What to Do:

Paint child's palm, ring finger, and pointer finger orange, and stamp their hand onto paper to create caterpillar's head

Turn paper upside down and paint child's other hand green.

AA
Assist them in stamping their hand multiple times across the paper in a line to create caterpillar's body and legs.

After paint has dried instruct children to:
- Use their thumb dipped in black paint to create eyes on the caterpillars head.
- Draw a mouth on the caterpillar using a black marker
[

Back

] [

Send to a friend

] [

Print Preview

]
Comments

Posted on Apr 19, 2012 13:42:31 PM by Karen




This was an amazing activity and we really enjoyed it!