Bunny Stamping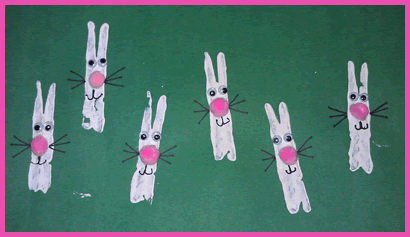 Bunny Stamping
Materials Needed:


Wooden clothespin


Paint (white,brown,and black)


Paper (green)


Pie tins


Hot glue gun


Glue sticks


Corks, film canisters, or medicine bottles (clean,empty ones with labels removed)


Googly eyes (Small)


Pom poms (small pink ones)


Glue
What To Do:


Make clothepin bunny stamps ahead of time by hot gluing either corks, clean thin empty plastic medicine bottles, or empty film canisters to the side of a wooden clothespin.

Provide the art center with clothepin bunny stamps, paint in pie tins, paper, glue,googly eyes, and pom poms.


Invite children to come to the art center and explore the materials provided.
[

Back

] [

Send to a friend

] [

Print Preview

]
Comments
Be the first to leave a comment! (Note: You must be logged in to leave a comment.)