Mommy in my Pocket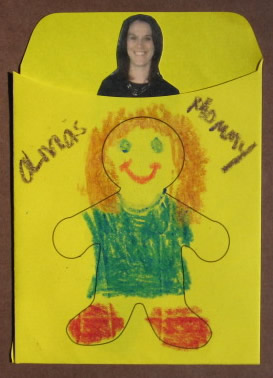 Mommy in My Pocket
Materials Needed:


Picture of mommy (whole body)


Library pockets


Crayons/markers



Stickers

Laminating material
What to Do:



Take a full body picture of mommy at orientation/meet the teacher night or have mommy send one in.


Have children decorate library pockets with crayons, stickers, markers, etc.


Cut out the picture of mommy around her body.


Laminate both the pockets and the photographs for durability.


Cut a small slit in through the front layer of lamination and insert Mommy into the pocket.


Place in child's cubby for use and comfort during the year.
[

Back

] [

Send to a friend

] [

Print Preview

]
Comments
Be the first to leave a comment! (Note: You must be logged in to leave a comment.)