Cactus Collage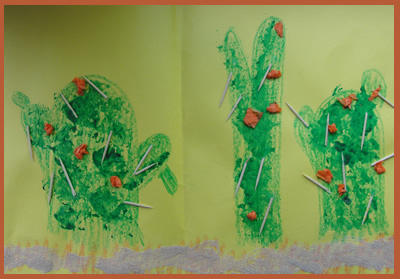 Cactus Collage
Materials Needed:


Construction paper (white)


Crayons (blue and green)


Paint (green)


Sponge or koosh balls (if you can find koosh ball rings they work wonderful)


Sand


Toothpicks (you can use cut straws for younger children)


Tissue paper (yellow and red)


Glue
What to Do:


Instruct children to draw several cacti using the crayons and then paint them using sponges or koosh balls (rings) on their paper.


Apply glue and sand to the bottom of the paper and add toothpick as spines on cactus.


Crumple small bits of tissue to use as flowers and color background as desired.
* For younger children you may want to prepare cacti shapes for them to glue down instead of drawing them.
[

Back

] [

Send to a friend

] [

Print Preview

]
Comments
Be the first to leave a comment! (Note: You must be logged in to leave a comment.)