Designer Ties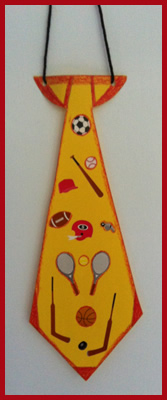 Designer Ties
Materials Needed:


Construction paper (various colors)


Yarn


Glue


Scissors


Sticky dots


Sequins


Crayons
What to Do:


Draw tie shape onto large construction paper and cut out.


Place tie cut outs, sticky dots, stickers, sequins, glue, and crayons in the art center.


Invite children to come to the art center to explore with the materials provided.
* When tie is decorated you may want to punch two holes in top right and left sides of tie and tie a piece of yarn to it so dad can wear the tie.
[

Back

] [

Send to a friend

] [

Print Preview

]
Comments
Be the first to leave a comment! (Note: You must be logged in to leave a comment.)