Camp Food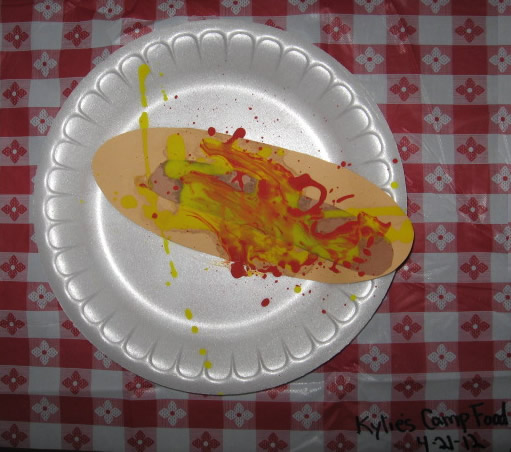 Camp Food
Materials Needed:

Construction paper (brown and tan)

Ketchup and Mustard bottles (the yellow and red picnic bottles work well or reuse real ones)

Paint (red and yellow)

Glue

Hot dog and bun template

Paper plates
What to Do:

Trace hot dog template onto brown paper and cut out.

Trace bun template onto tan paper and cut out.

Place red paint into ketchup bottle and yellow paint into mustard bottle. Mix a little bit of glue into both bottles.

Place the glue, plates, picnic paints, hotdog cut outs, and bun cut outs in the art center.

Invite children to come to the art center to explore with the materials provided.
* They look nice when glued to a "picnic place mat" made from a cut up plastic picnic tablecloth
[

Back

] [

Send to a friend

] [

Print Preview

]
Comments
Be the first to leave a comment! (Note: You must be logged in to leave a comment.)