Farm Animal Footprints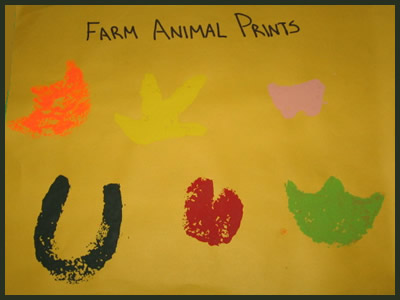 Farm Animal Footprints
Materials Needed:


Construction paper


Sponges


Paints (Any Choice of Colors)


Black marker

Template
What to Do:


Cut shapes of different animal prints (i.e. horse shoe, ducks webbed footprint, pig hoof, chicken foot, etc.) from sponges.


Write the words "Farm Animal Footprints" on the top of a piece of construction paper.


Have the children stamp animal prints by dipping sponges in paint and stamping them onto the paper.
* It may be easier to manipulate the sponge stamps if you clip a clothespin to the top side of the stamp.
[

Back

] [

Send to a friend

] [

Print Preview

]
Comments
Be the first to leave a comment! (Note: You must be logged in to leave a comment.)