Leprechaun Finder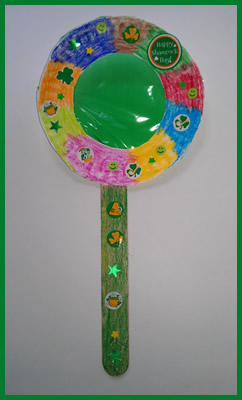 Leprechaun Finder
Materials Needed:

Small paper plates (2 per child)

Green or gold cellophane wrap

Jumbo craft sticks (1 per child)

Crayons

Stickers, gems, sequins, etc.

Tacky glue

Gold plastic coins

Green cookies, candies, St. Patrick's Day stickers, etc
What to Do:

Cut out the centers from the paper plates.

Cut out squares of cellophane and glue cellephane to the back of the paper plate.

To secure in place, sandwich the cellophane with another paper plate and glue together. A glue gun works best for this.


Glue on a craft stick as a handle.

Provide children with stickers, gems, sequins, crayons, and glue. Invite them to decorate their leprechaun finder.

Use Leprechaun Finder with "Search for Leprechauns" activity listed in Social Science.
[

Back

] [

Send to a friend

] [

Print Preview

]
Comments
Be the first to leave a comment! (Note: You must be logged in to leave a comment.)