Footprint Butterfly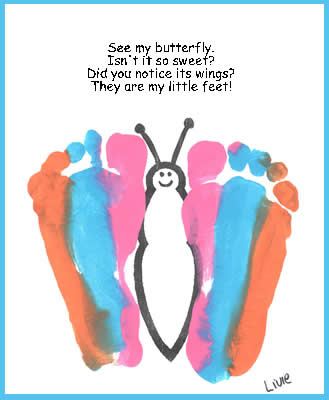 Footprint Butterfly
Materials Needed:

Paint (orange, blue, and pink)

Cardstock paper

Paint brush

Template
What to Do:

Print out butterfly body and poem template onto white cardstock paper.

Paint children's feet starting with the two small toes orange, the two middle toes blue, and then the big toe pink. Be sure to paint the entire foot from the toes to the heels.

Assist children in stamping one foot on each side of the butterfly body with the big toes in the middle.
Template
[

Back

] [

Send to a friend

] [

Print Preview

]
Comments
Be the first to leave a comment! (Note: You must be logged in to leave a comment.)