Feet Creatures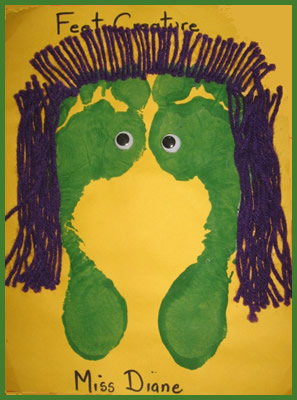 Feet Creatures
Materials Needed:

Yellow construction paper

Purple yarn

Wiggly eyes

Green paint

Glue

Scissors
What to Do:

Paint child's feet green and stamp them onto the paper.

Instruct the children to add one wiggly eye to each foot under each of the big toes.

Cut several 1 inch and 5 inch pieces of yarn.

Invite children to glue "hair" to their creature using the short yarn at the top and the longer yarn on the sides.
[

Back

] [

Send to a friend

] [

Print Preview

]
Comments
Be the first to leave a comment! (Note: You must be logged in to leave a comment.)