My Beautiful Angel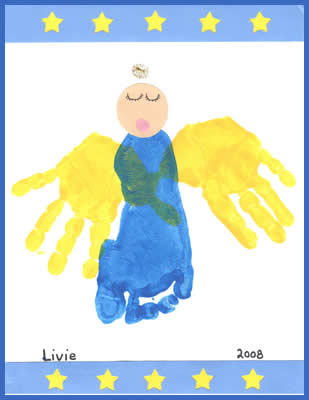 My Beautiful Angel

Materials needed:


White printer paper


Construction paper (blue and multicultural)


Paint (blue and yellow)


Star stickers


Glue


Brushes


Black fine tip marker

What to Do:


Cut one inch circles out of multicultural colored construction paper.


Paint a child's hands yellow then assist them with stamping their hands at an angle with their thumbs overlapping. (See example above.)


Allow the yellow paint to dry.


After paint has dried, paint child's foot blue and assist them with stamping their foot, toes pointed down, over their thumbs on the paper.


Allow the paint to dry.
Instruct children to:


Glue a constuction paper circle at the top part of their heel.


Draw a face on the circle.


Draw a halo over the head.


Mount the white paper onto blue construction paper and invite the child to apply star stickers around the outside edge of the blue paper.
[

Back

] [

Send to a friend

] [

Print Preview

]
Comments
Be the first to leave a comment! (Note: You must be logged in to leave a comment.)